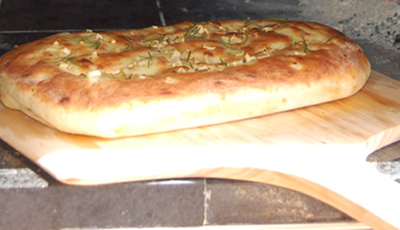 Cooking Pizza in a Wood Fired Oven
If you've ever tasted pizza cooked in a wood-fired oven you'll know that the texture and flavor is unmatched by cooking pizza any other way. Traditional electric or gas ovens simply cannot impart the special taste and crispness provided by the wood-fire method. In fact it's even difficult to resist the aroma of a pizza cooking in a wood-fired oven.
Familiar "fast-food" pizzas are very popular and can be quite tasty, but wood-fired pizzas are in a class of their own. Once you've tried them you'll appreciate a good pizza like never before and never consider them as simple fast food, even though they can be cooked rapidly by this method. Electric or gas ovens can heat up rather quickly, but wood-fired ovens can take much longer to reach the ideal cooking temperature, perhaps an hour or so. But it's well worth the wait! And once it's within the ideal range, "magic" happens!
There are three types of heat transfer in an oven – conduction (the pizza is in contact with the floor of the oven), convection (movement of hot air around the pizza) and radiant heat. Wood-fired ovens provide the ideal conditions for a well-cooked pizza because of the heat stored in the dense walls and from the brick floor. The heat also radiates evenly across the dome, creating fast cooking and adding superior flavor to the food.
At Roam'In Pizza we believe that nothing is better than cooking on wood fire. In order to provide the same experience as baking in a full-scale wood-fired oven while on the move, we have a range of mobile pizza ovens mounted on fully fitted trailers. These mobile ovens are just as efficient as the large ones, but there are some unique advantages:
First, we are able to take the oven to virtually any location where it's required; the trailers on which the ovens are mounted are fully self-contained, almost like a mobile kitchen.
Secondly, we use high quality, hot burning and low residue wood to heat the oven. These ovens are specially designed to run on wood, but not just any type of wood. We use hard, compact wood (iron bark), that produces minimal smoke and ash residue.
By using iron bark, the pizza dough and the variety of toppings absorb a unique flavor.
The final result is a pizza with a crust that has just the right amount of crispness and the whole pizza is cooked to perfection. In fact a pizza cooked in a take-away shop or home-delivered in a box is no match for the flavor of a pizza cooked on-location in a wood-fired oven.
Our mobile ovens are capable of cooking between three and five pizzas at a time depending on the oven size, with cooking time being less than three minutes when the oven is at the ideal temperature. Essentially this means we can supply a cooked pizza every minute!
Because we offer top quality mobile pizza catering services in Brisbane, it is essential for us to have a fleet of efficient mobile ovens. In terms of quality and price, we offer unbeatable value. Due to the growth in popularity of our catering services, we're planning to expand our business by adding even more mobile ovens. We're aiming only for top quality ovens because we always strive to improve our customers' experience with every pizza we sell.